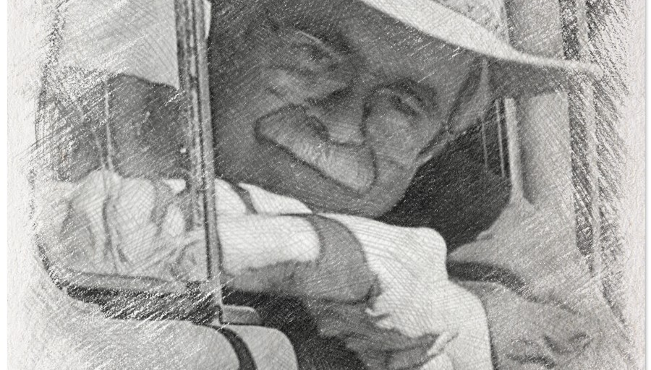 Hello and welcome to July

I celebrated a birthday back in April. Well, the language purists would say I celebrated an anniversary of my birth . . . day.
Anyway, it got me to thinking that I needed to start now to plan for my really big one, my 80th, that will come about in three years.
Last month, singer/songwriter Stephin Merritt issued an album for his 50th birthday, the album titled 50 Song Memoir. For the album, he wrote 50 songs, one for each year of his life, each song somewhat autobiographical. Merritt's album triggered the idea.
I'm a writer. I write novels, but you know I also write short stories. Lots of them. Sometimes 50 or more a year. Why that volume? That's a story in itself, and I'll tell you about it sometime.
If Merritt can write 50 songs for 50 years, how about me writing 80 short stories for a new anthology to come out on my 80th birthday . . . my 80th birth anniversary?
80 Candles . . . 80 Years . . . 80 Stories
How would you like a sample?
Say yes.
All right, click on EXTRAS, then click on MY SHORT STORIES. That will take you to "Old Roy & The Cincinnati Kid", the fourteenth story in this grand new anthology that will come out in 2020.

Enjoy.
Jerry
Calendar -- 2017
July 25 Secrets of Publishing panel. Round Lake Public Library, Round Lake, IL, 7 p.m
August 5: Lake County Authorfest. Round Lake Beach Civic Center, Round Lake, Il, 10 a.m.-4.p.m.
August 27: Fiesta Organica. Oak Village Garden Center, Janesville, WI, 10 a.m.-3 p.m.
October 14: Cargill UMC Craft Show. Rock County Fairgrounds, Janesville, WI, 9 a.m.-3 p.m.
October 21: Nightmare at Main Street Manor. Hedberg Public Library, Janesville, WI, 7 p.m.
November 1, 8, 15, 22: NaNoWriMo writing sessions. Beloit Public Library, Beloit, WI, 6-8 p.m.

November 3-4: Christmas on the Prairie. Rock Prairie Church, Janesville, WI, 9 a.m.-4 p.m.

November 11: Holiday Craft Bonanza. Mt. Horeb, WI, 9 a.m.-4 p.m.
November 18: Christmas Open House. Oak Village Garden Center, Janesville, WI, 9 a.m.-5 p.m.
December 9: Christmas to Remember. Washington County Fair Park, West Bend, WI, 9 a.m.-4 p.m.